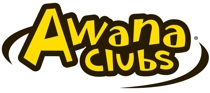 AWANA
Register for AWANA
AWANA is fun with a purpose - to reach and train kids for Jesus Christ. It is the leading ministry to help local churches reach children and youth with the gospel and train them to know, love and serve Christ. AWANA blends Bible teaching, Scripture memorization and tons of fun. Nearly 12,000 U.S. churches and more than 4,000 churches overseas run the AWANA program, and the list is growing.
Our AWANA Club meets every Wednesday evening 6:30 pm to 8 pm during the school year. There are three different Clubs within the AWANA Club. Each club has their own uniform and earns badges and awards to display on them.
AWANA Cubbies
AWANA Cubbies age 3 through pre-K have fun, and lots of it! Games, puppets, crafts, awards and other activities transform our preschool program into a lively weekly experience where fun and learning go hand in hand.
AWANA Sparks
AWANA Sparks immerse Kids kindergarten through 2nd grade in God's word. Kids learn about the people and events of the Bible along with building a foundation of wisdom for knowing Christ. They come out better grounded in Scripture.
AWANA Truth & Training (T&T)
AWANA Truth & Training (T&T) age 3rd grade through 6th grade enjoy a special time of fun and learning. Club meetings engage them in an atmosphere of irresistible excitement for churched and un-churched kids alike. Both clubs expose children to the gospel message, Scripture memory, Bible study, awards, team-oriented games and gut-busting fun.
Sparks and T&T club meetings are divided into three segments:
Counsel Time - Bible teaching, worship, award presentations and the gospel message
Handbook Time - Small group interaction and completion of Bible-based lessons and Scripture memorization
Game Time - Age-appropriate outdoor games on the AWANA game circle
The passion of AWANA is to teach boys and girls the truth of God's Word and to train them to follow Christ in their daily lives. Our goal is that many of today's young people will become tomorrow's church leaders. AWANA is the program that trains the leaders of tomorrow -- today.
Register for AWANA
Childrens Church
Let your children's adventure begin today. Children and their parents sit together during worship, until the beginning of the sermon when they are dismissed. Children's Church offers children an alternative and a time to have their own church worship that runs parallel to the regular 11am worship service. Targeted for children 4 years old through the 3rd grade this gives children a chance to worship Jesus in such a way that impacts their hearts to celebrate their love for the Lord. The children's service is a relaxed time of worship, which includes singing and a Bible story, or an appropriate video from the Church Media Library.
K-5
Our passion is about teaching preschoolers that God loves them! Learning scripture memorization is important to build a strong foundation one verse at a time. Various activities provide a time of worship for the children. It is through these activities they are given a time to hear God's word and to know the truth.
Nursery
It all begins here with our Nursery. This is where little sprouts grow in God's care. The Nursery provides an opportunity to start building foundational truths into children at a young age. These foundational times impact a child in ways that will blossom throughout ones life.
Youth
Our Youth Ministry here at Tropical Farms Baptist Church are on the go and engaged in many activities. These activities are geared toward helping others. Weekly Bible studies help our youth focus on discipleship and drawing closer to God. Engaging in Bible studies allows them to be better equipped to share Jesus with their friends. The Youth share in many different ministry opportunities. Some of our activities include:
Bible Study
Mission Trips
Night of Joy
Silver Ring Thing
See you at the Pole
Vacation Bible School
Every summer this provides children a time where they can interact with others while at the same time engaging in various activities. They learn Bible stories, play games, create crafts, and enjoy a special time of music along with many other fun activities.
Register today for Vacation Bible School June 19 - June 23 from 6pm till 8pm